All relevant units:
Since April 29, 2000, the "Administrative Measures for Materials and Containers for Pharmaceutical Packaging" (Provisional) (Decree No. 21) has been implemented, and the product registration system has been implemented in China's pharmaceutical packaging materials. It has been more than 6 years since then, and most of the products have entered the re-registration stage. During the period, after experiencing the changes in regulations and the experience of registration and approval, the classification and data requirements for registered products have been greatly adjusted. In the drug registration management method, the requirements for packaging materials for direct contact with drugs have also been added.
There are currently 139 standards for packaging materials and containers for direct contact with pharmaceuticals (YBB) developed by the State Food and Drug Administration, some of which have been revised and revised. The association standards for pharmaceutical packaging materials have been formulated since 2005, and the standards for glass product associations have been introduced. With the gradual improvement of the standard system for drug packs, China's pharmaceutical packaging management has entered the legal track, and pharmaceutical companies have paid more and more attention to the standards and development of pharmaceutical packaging materials.
In order to promote the relevant enterprises' understanding of the relevant regulations and standards for pharmaceutical packaging, China Pharmaceutical Packaging Association will hold the "57th China International API / Intermediates / Packaging / Equipment Autumn Fair" held from November 15th to 17th. Held a seminar on pharmaceutical packaging management and standardization development. The meeting invited relevant experts to give speeches and discuss with the participants. At that time, it is hoped that the majority of drug packaging materials enterprises and pharmaceutical production enterprises will send technical leaders to participate. The specific arrangements are as follows:
I. Meeting time: November 16th, 2006, 9:30~12:00
2. Venue: Room 5501, Hall 5, Qingdao International Convention and Exhibition Center (Address: No. 9 Miaoling Road, Century Plaza, Qingdao High-tech Zone)
Third, the topic of the speech:
1. China's pharmaceutical packaging management regulations and industry status quo - analysis of relevant regulations and registration of pharmaceutical packaging materials - Cai Hong, vice president and secretary general of China Pharmaceutical Packaging Association 2, overview of packaging materials and containers for direct contact with pharmaceuticals - Shanghai Director of Food and Drug Packaging Materials Testing Institute IV. Cost: 100 yuan/person V. Receipt: Please return the representative to the secretariat of the Association and the Secretariat before November 10. (Because there are more people during the exhibition, the participants can also transfer the fees into the association account or remittance in advance. The secretariat will send the invoice and the badge to the participants in time or at the venue, and indicate when remittance. )

Annex I: Bank Transfer and Remittance Information Annex 2: Conference Receipt


October 8, 2006


Annex I:

Bank Transfer Information Account Opening Name: China Pharmaceutical Packaging Association Bank: China Construction Bank Exhibition Road Branch Account Number: 6510003042610002989
Post Office Remittance Information Address: No. 2, Wenhuiyuan South Road, Haidian District, Beijing (Room 501, China Medical News)
Zip code: 100088
Phone: 62267180, 62262760
Fax: 010—62267098

It`s a popular products with best taste. Fresh Chestnut is high carbohydrate content of dried fruit varieties,and can supply the body more heat energy and can help fat metabolism,beneficial gas spleen,thick filling gastrointestinal function.You can put fresh chestnut into water to boiling it or fry, it`s named `Chestnut Roasted With Sugar` in China,it`s very popular from Autum to Spring.Especially popular with girls.In foreign country,they are roasted alway,different country different way to eat it.No matter what,it`s a green and health food.We also supplied Fresh Ginger ,Air Dried Ginger , Fresh Garlic , White Garlic ,red garlic. Sweet Corn , Fresh Taro , Fresh Potato , Holland Potato . Fresh Baby Mandarin, Fresh Red Grape, Fresh Pomelo , Fresh Ya Pear Chaotian Chili , Paprika Powder , Fresh Apple and so on.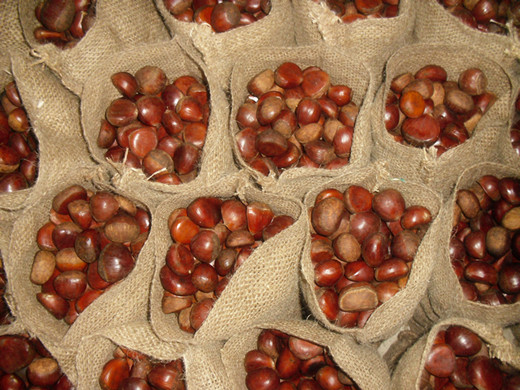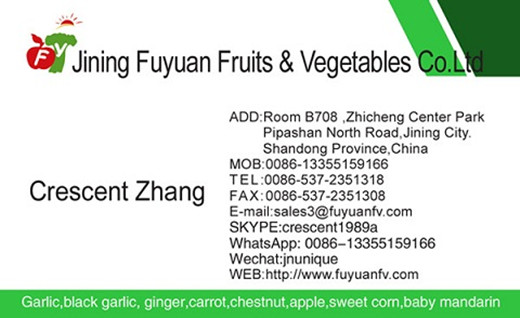 Fresh Chestnut 40-50Pcs,Delicious Chestnut,Raw Sweet Chestnuts,Natural Fresh Chestnut

Jining Fuyuan Fruits And Vegetables Co., Ltd. , https://www.fuyuanfv.com